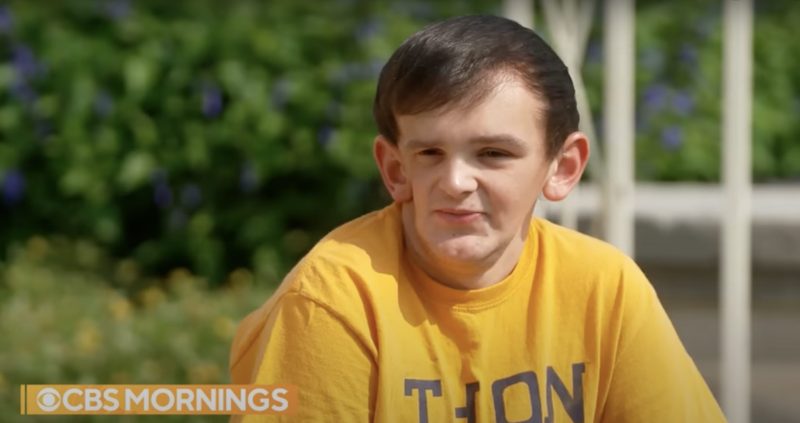 Tucker Haas was just two years older when he was diagnosed with a rare form of cancer. As part of Penn State THON's commitment to supporting Four Diamonds families, fraternity members at Penn State University took him under their wing. CBS News correspondent Nancy Chen traveled to State College, Pennsylvania, to see how Haas, who is now a senior at PSU himself, is paying it forward. Air Date: Oct 26, 2022.
Tucker Haas' Journey Continues 
Kids like Tucker Haas have a remarkable ability to roll with what life gives them. He proved it through his bravery when facing his sarcoma treatment from the age of two. At Four Diamonds, we're honored to share his story in honor of Cancer Survivors Month.
Tucker's enthusiasm made an impression on Penn State University students and the nation at large. At just 6 years old, he took the stage at Penn State THON™ to sing a Black Eyed Peas song. The fraternity Alpha Tau Omega (ATO) adored Tucker. They formed a strong relationship with him and his family as he underwent cancer treatment.
With the support they need, kids like Tucker can grow into strong adults who live to inspire. Tucker proves it every day by helping kids in the same situation he experienced over a decade ago.
Hope Comes Full Circle 
Today, Tucker is 17 years cancer-free. He graduated from Penn State University in the spring of 2023 with a degree in Recreation, Park and Tourism Management with a focus in Commercial Recreation Management.
While studying at PSU, Tucker grew into a leadership role with the ATO fraternity as one of the THON™ chairs. Tucker participated in his 20th THON™ in 2023, dancing for 46 hours straight. He also offers his support to today's Four Diamonds kids — including Gus, a young boy undergoing the same treatment that Tucker received.
Four Diamonds Helps Kids Like Tucker Live Fulfilling Lives 
For nearly 50 years, we've supported kids like Tucker and their families through the challenges that childhood cancer brings. Since 1977, we have covered 100% of treatment costs not covered by insurance for each Four Diamonds child. Tucker received the life-saving treatment he needed at Penn State Health Children's Hospital, and Four Diamonds covered every medical bill for the Haas family. Thanks to the generosity of supporters like you, Tucker's childhood cancer survivor story is now just one of many childhood cancer survivor stories.
Give Hope to More Children Like Tucker: Join Four Diamonds' Mission 
There are kids like Tucker in every neighborhood who can do so much with support from their communities. And people of any age or background have an opportunity to help kids like Tucker live long, meaningful lives. 
We encourage you to learn how you can get involved with Four Diamonds through recurring donations or by participating in THON™. Your contribution will help kids with cancer receive the treatment they need to live happily and inspire others, so donate directly today or contact us online to discuss contribution options.