Most families and employees at Penn State Health Children's Hospital know Greg Baiocchi. Greg has been a beacon of light for the past 35 years as a Four Diamonds social worker, offering tremendous support to Four Diamonds families who are fighting cancer. As we approach Greg's retirement, we thought our community might like to know more about someone held in such high regard.
Greg started his career with Four Diamonds as a social worker in April 1987. He grew up in Hershey and always wanted to work for the medical center. When Greg applied to be a social worker with Four Diamonds, there was only one part-time and one full-time social worker. When he started, the position was part-time with Four Diamonds, and the other half of the time he worked with adults at the hospital. Starting out, he wasn't sure if he had what it took to work with childhood cancer patients. Two years later, Greg was promoted to full-time and has been working with Four Diamonds families ever since.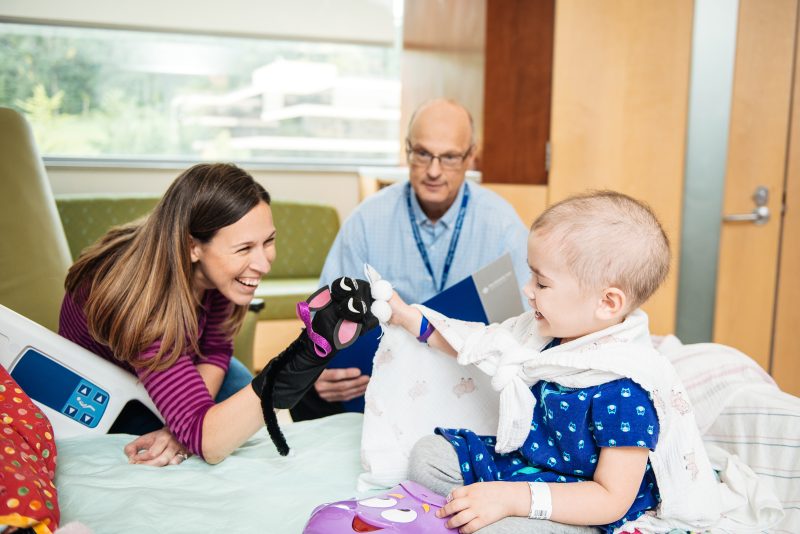 It wasn't long before Greg knew he would be with Four Diamonds and the Children's Hospital until he retired. One year into the job, Greg attended his first Penn State Dance Marathon (THON) at the White Building on Penn State University's campus. Not as many Four Diamonds families attended THON in the 80s, but the impact of the event was still just as powerful. "It either grabs you and doesn't let you go, or you decide it's not for you." Between his belief in the mission to conquer childhood cancer, and knowing he could spend his time focusing on the needs of kids and their families, it was the perfect job for him. Greg has many friends in the social work profession that spend countless hours helping families find ways to pay for treatments and medications, and it is very time consuming for them. Thanks to Four Diamonds, families never receive a medical bill that isn't covered by insurance.
There is no typical day when you are a Four Diamonds social worker, which is one of the reasons Greg loves his job. Every day is different and has its own challenges, with the opportunity to meet new patients and families. However, Greg starts each morning by checking which patients came in overnight and who is scheduled to be in clinic that day. After that, he attends morning medical rounds to understand what is going on with patients and then prioritizes his day based on the needs of both the children in the hospital and the ones coming into clinic that day. Greg probably sees 10-15 patients in clinic per day throughout the week. He also actively follows 50 patients, with another 100+ who he continues to support in various ways. "You have to be nimble and follow the detours of the day, so you know where to be and when."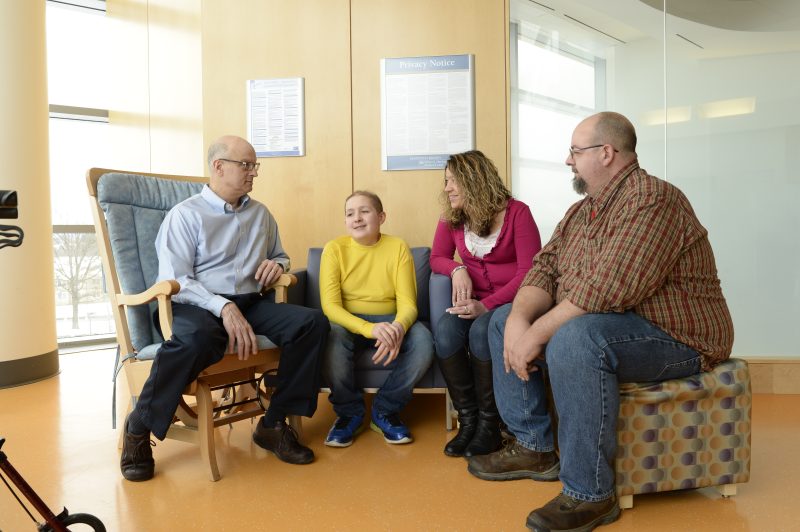 One of the most important things a Four Diamonds social worker can do for kids and their families is to build a a strong, supportive relationship and help them find the right resources. Greg can probably teach a course on this. The importance of connecting with families early on in their child's cancer diagnosis and determining their needs is so critical. Families are often dealing with eviction, divorce, financial concerns and other family issues. Knowing the intangibles early on helps Greg offer the best individualized support.
Most families have never had an interaction with a social worker and don't understand what they can help with. One of the biggest and earliest impacts that a Four Diamonds social worker has on a family is when they let them know that their medical costs are covered, and they don't have to worry about the finances for their child's cancer treatment. Greg says that because of Four Diamonds, Penn State Health Children's Hospital provides more psychosocial support that any other children's hospital. The presence of Four Diamonds social workers and the relationships that are made provide such a strong support system to families. Sometimes, Greg feels like he may not have done enough for a child or a family, only to have families tell him he was ALWAYS there when they needed him. Greg is known to be everywhere in the hospital and always where he is needed.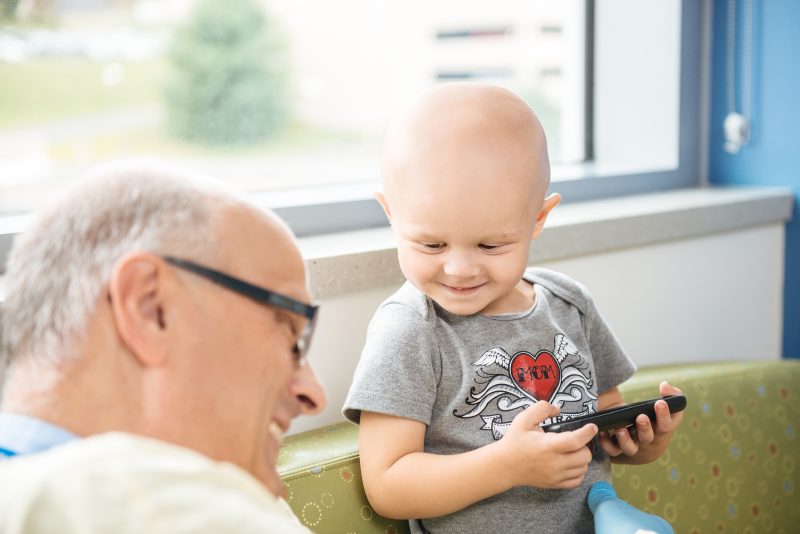 A Four Diamonds social worker has their good days and their bad days. Greg has come to know that while the best possible treatments are provided, not every child with cancer can be cured. The worst days are when he learns a child's cancer has relapsed. "Fighting for a cure can sometimes be worse than the disease itself." When a child relapses, the risk is higher and the news of a relapse to a family is often much worse than the initial cancer diagnosis. Greg knows these are the days that he and his fellow social workers are needed the most.
Many Four Diamonds kids will grow up free from cancer. Seeing those kids come back for check-ups, in the community, at bell ringings, these are the best days for Greg. In fact, a Four Diamonds child later became an intern under Greg's supervision, and she is now a Four Diamonds social worker. It's an honor for Greg to see what can happen beyond cancer treatment–college, weddings, children of their own.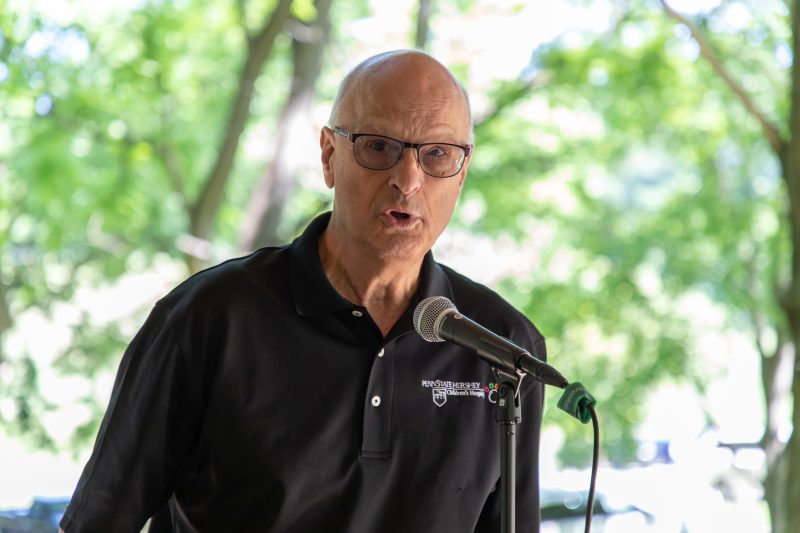 So now after 35 years of dedication to Four Diamonds children and their families, Greg will retire in September. However, he hopes to continue volunteering with Four Diamonds, the local food bank and the Ronald McDonald House. But if you hope to keep seeing Greg, be on the lookout for the PA Dairymen's Association Milkshake Truck. He hopes to drive the truck and serve up some delicious milkshakes to the community.
Greg, we wish you the best on your retirement and thank you for 35 years of care, love and dedication to Four Diamonds children and their families. Ride off into the sunset in the milkshake truck and know that your work has changed the lives of thousands of children.