Embarking on the Volunteer Journey
Pam Turner is the current chair of the Four Diamonds Advisory Board and a cancer survivor. Four Diamonds is incredibly grateful for the tens of thousands of student volunteers involved in Penn State THON and Four Diamonds Mini-THON. We're also honored to have passionate community leaders like Pam who continue to power our fight to conquer childhood cancer.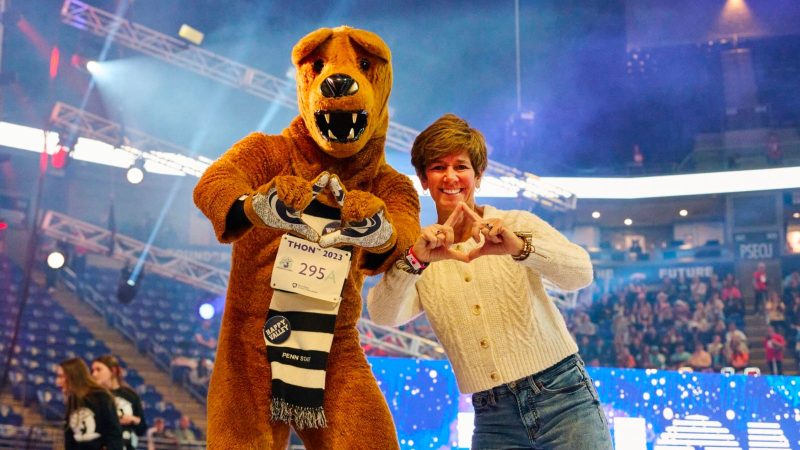 PHOTOGRAPHY BY STEVE TRESSLER
In the early 1980s, Pam attended Penn State University and was involved in multiple THON committees. At that time, THON was held at the White Building on campus. Fast forward to 2016, Pam's eldest daughter was selected to be a THON dancer. This was the first time that she had come back to THON since her time in college. What she saw during THON weekend blew her away. She was amazed by what THON had grown into, and she was inspired by those she met and the impact they would make on her life.
Her daughter's THON organization had just been paired with a new Four Diamonds family. Pam had an opportunity to meet this family–young Four Diamonds child Owen and his mom, Marsha. Pam and Marsha clicked right away and became the best of friends. That same year, Pam's younger daughter had just become a THON chair for her THON organization. This was a sign. Pam knew she wanted to get more involved in THON and Four Diamonds and started looking for more opportunities. The friendship she developed with Owen's parents led to an introduction to Four Diamonds' Executive Director, Suzanne Graney, and this is where Pam's Four Diamonds journey took on a whole new meaning.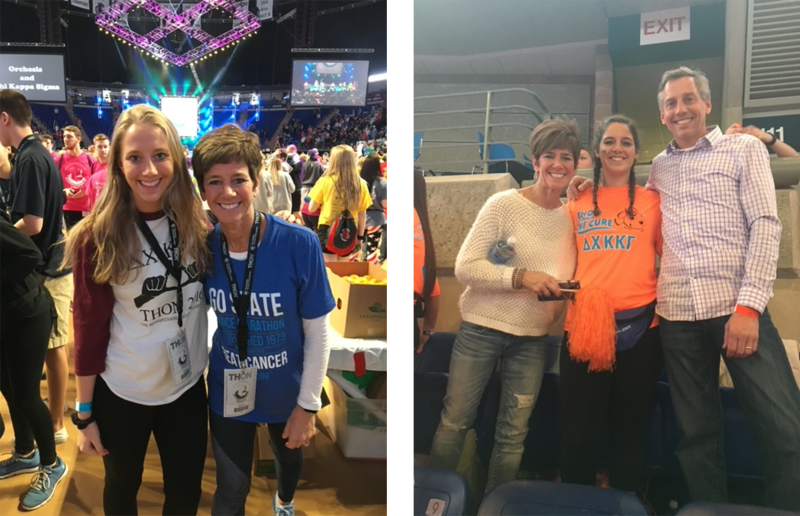 Volunteering With Purpose
Pam believes that her purpose in serving as the Four Diamonds Advisory Board Chair is to be a good steward of the funds raised each year, putting it towards the right research, and the best patient care and family support. "I need to support Suzanne and the Four Diamonds team as much as I can," says Pam. "I need to help them get done what they need to get done to help more kids. Facilitating and supporting our board members in any way I can is one of my guiding principles." Unfortunately for Pam (and Four Diamonds!), her time as board chair is coming to a close, as her term comes to an end. Her hope is to be back as a member of the board after the required year off.
Pam is very grateful for the opportunity to serve on Four Diamonds' advisory board and to continue supporting a cause that she is so passionate about. Pam loves to see the moment when it clicks for donors and they get to see the true impact of their gift. "You have to go to THON once," says Pam, "and I challenge you not to get involved with this organization after you see it first-hand." 2016 forever changed the way she looked at life. She says, "This is the most amazing organization that I have ever been involved with."
Getting Involved in the Fight Against Childhood Cancer
Each year, student volunteers dedicate their time and energy to help Four Diamonds conquer childhood cancer. She encourages adults to also consider the many opportunities to get involved, like starting a Mini-THON in their child's school.
Pam also says that Penn State and THON alumni and local businesses can get more involved. "Explore ways to help the student leaders of THON and Mini-THON that are already doing the heavy lifting. With 5K's and so many other events and fundraisers, there are a variety of opportunities to help."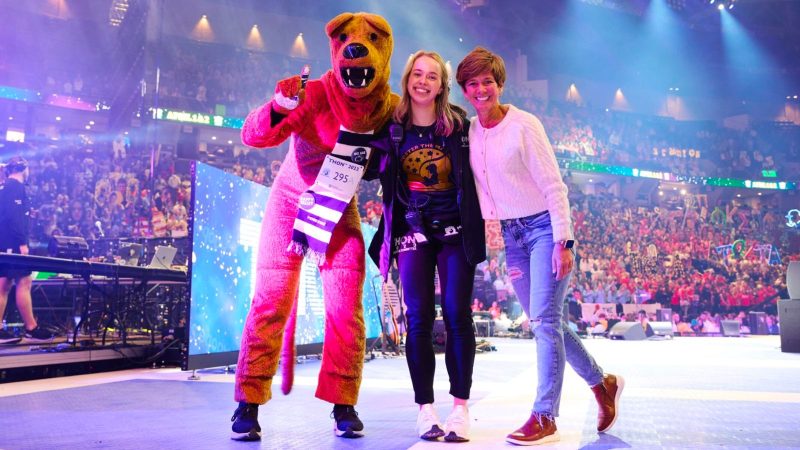 PHOTOGRAPHY BY STEVE TRESSLER
The moment that Pam met with Four Diamonds child Owen and his family was a game changer for her and justifies all the time and hard work that she has dedicated to the organization. However, she will also never forget the first time she attended a Mini-THON Leadership Summit. "Unbelievable," said Pam. "These high school and middle school kids are just amazing."
What does the next chapter look like for Pam? She will continue to encourage her friends and family to learn about Four Diamonds, donate and volunteer. As far as her future, to quote featured THON 2023 performer Natasha Bedingfield, "the rest is still unwritten."
You can also read more about Pam in a recent Penn State Smeal College of Business magazine article here: https://magazine.smeal.psu.edu/leading-thon/