A willow tree is known as a tree that will bend, and not break. It bends to accommodate and withstand strong winds and adverse weather. The willow tree's resiliency allows it to come back stronger, and the same can be said for Four Diamonds child Willow.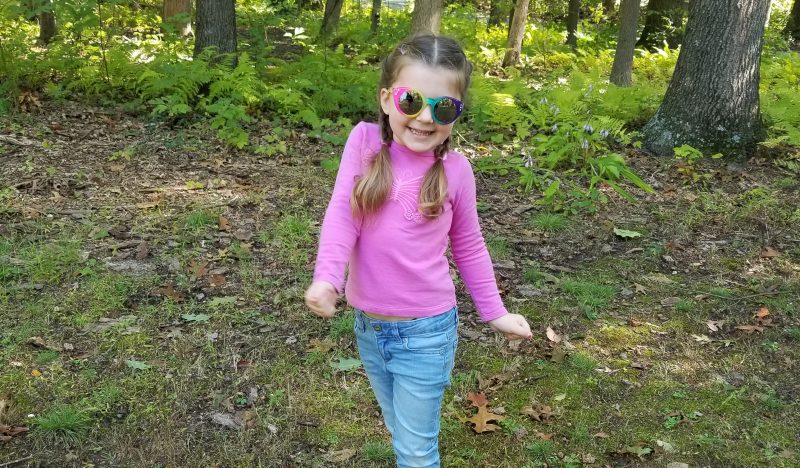 At four years old, Willow loved dancing, singing, riding power wheels and playing outside­­–she was a very active little girl. In October 2021, Willow fell backward while playing and went completely pale. After her fall, Willow's back continued to cause her a great deal of pain, so her parents took her to urgent care. Willow had X-rays and doctors said that she looked fine. Unfortunately, her pain didn't go away. It hurt to even put on her shoes. Doctors then suggested bloodwork and an MRI to explore the cause of Willow's pain. To everyone's surprise, test results showed that Willow's bone marrow was 47 percent cancerous and, therefore, wasn't allowing her to heal. The doctor sent Willow's family to Penn State Health Children's Hospital immediately, and she was admitted that night. She was diagnosed with acute lymphoblastic leukemia (ALL).

Once Willow began receiving the treatment she needed, her parents, Seth and Megan, looked at their insurance policies and scrambled to see what was covered. They had just embarked on a home renovation that needed to stop. Willow's diagnosis brought so much uncertainty; however, their Four Diamonds social worker, Greg, talked them through a lot of their questions and concerns. When he said, "Four Diamonds will cover all your medical costs for Willow's treatment," it was a tremendous weight lifted off their shoulders.
Willow's mom, Megan, had a very difficult time accepting Willow's diagnosis–she thought it had to be a mistake. "People accept things at a different pace," she says. "We received so many messages from people that wanted to help. It was somewhat overwhelming at first, but once we had Willow's treatment plan in place and felt organized, communicating with family and friends was amazing."

Willow's dad, Seth, felt helpless at times that he couldn't make her cancer go away. He felt that that working through this stress together with Megan and with their family was beneficial for everyone. "Talk," says Seth. "People are always asking about Willow and apologizing for asking. People didn't need to apologize; I like talking about it. It's not good to bottle it up. If you know what's coming you can take it head on. No one is alone, and the support that is available to us is just tremendous."

During Willow's treatment, life also changed for her older sister, Brielle. They're very close, and Brielle says it was hard at first because Willow didn't want to play. "I knew I needed to take extra good care of her," says Brielle. So she began making Willow breakfast. She made her waffles, and Willow especially liked her scrambled eggs. Even at eight years old, she handled all the changes well and continued showing up for her little sister.
Willow's parents say that she has been a rockstar through treatment. She has only been nauseous a handful of times, more now with maintenance treatment. The only thing that has really knocked her down throughout treatment was losing her hair. Otherwise, Willow's parents are grateful for her progress and the ability to endure side effects. This year, Willow started kindergarten as planned and now enjoys playing soccer and taking horseback riding lessons.

Willow's fall turned out to be a blessing in disguise. Her early cancer diagnosis helped doctors at the Children's Hospital recommend an aggressive treatment. Both her blood and bone marrow are now clear. Willow is currently on maintenance treatment, which includes going to the hospital every four weeks for a checkup. Every few months she receives a spinal tap and infusion. She also takes chemotherapy pills at home every day. Willow will be done with treatment in February 2024 when she will ring the bell at the hospital to celebrate this incredible milestone in her cancer journey.
Just like a willow, she's been able to bend in the wind and come back stronger than ever. And we can't wait to see what she does next.